Freight rail usage and performance

Quarterly and periodic (4-weekly) statistics on the volume of freight transported by rail and the punctuality of those services. Annual updates are made in the January to March quarter to freight train volumes on the network in Great Britain, the market share for rail freight compared to other modes and the effect of rail freight on road haulage.
Periodic operational data for freight moved is supplied to us from Network Rail on a periodic (4-weekly) basis and is contained in table 1314. The timeframe for publishing these on the data portal is driven by when we receive the data and also when any queries we have on the validity of data are resolved. Therefore, it can take up to 15 working days after period end for the table to be updated.
Data is shown by financial year quarter: Q1 is April to June; Q2 is July to September; Q3 is October to December; and Q4 is January to March.
For details on how these statistics are compiled, please see our Freight quality and methodology report and for information on any revisions, please see our Revisions log.
Data and reports that include previous statistical releases on Freight rail usage can be found on the National Archives.
Our statistical practice is regulated by the Office for Statistics Regulation (OSR).
If you have any questions or feedback on these statistics, please contact rail.stats@orr.gov.uk
Latest statistical release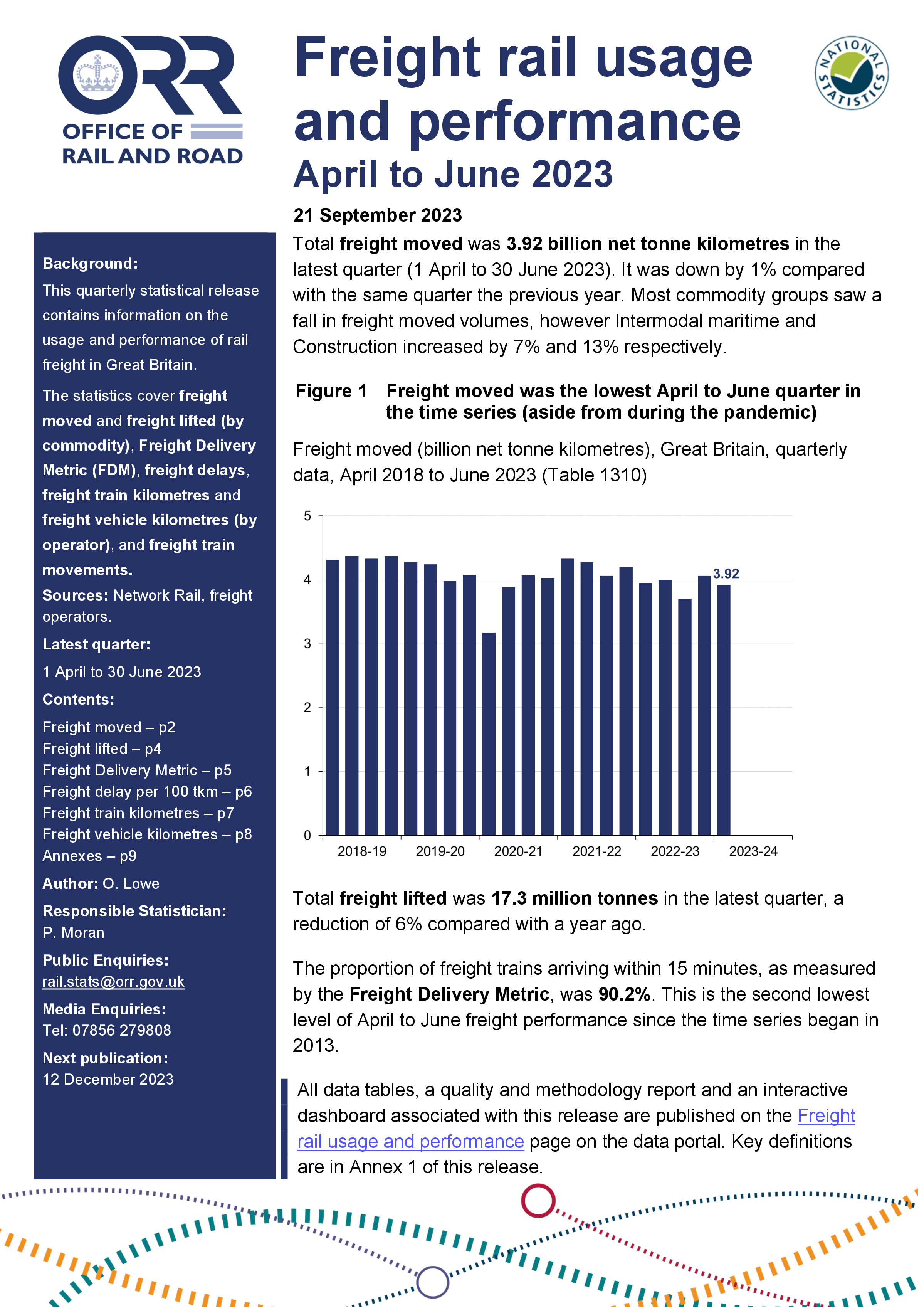 Date published: 21 Sept 2023
Date next published: 12 Dec 2023
Key results
Total freight moved was 3.92 billion net tonne kilometres in April to June 2023, a decrease of 1% compared with April to June 2022.
Total freight lifted was 17.3 million tonnes in April to June 2023.
Freight train kilometres were 7.90 million kilometres in April to June 2023.
The proportion of freight trains arriving within 15 minutes, as measured by the Freight Delivery Metric, was 90.2%.