Passenger rail performance

Quarterly and periodic (4-weekly) statistics on punctuality, reliability and causes of delay for passenger trains operating on the mainline network in Great Britain.
Periodic operational data is supplied to us from Network Rail on a periodic (4-weekly) basis. These data are made available on our data portal as soon as the data are loaded and validated into our systems. The timeframe for publishing these on the data portal is driven by when we receive the data and also when any queries we have on the validity of data are resolved. Therefore, it can take up to 15 working days after period end for the tables to be updated. These data are included in Table 3114, Table 3124, Table 3138, Table 3144, Table 3157, Table 3167, Table 3184 and Table 3194.
Data is shown by financial year quarter: Q1 is April to June; Q2 is July to September; Q3 is October to December; and Q4 is January to March.
For details on how these statistics are compiled, please see our Passenger rail performance quality and methodology report and for information on any revisions, please see our Revisions log.
Data and reports that include previous statistical releases on Passenger and freight rail performance can be found on the National Archives.
If you have any questions or feedback on these statistics, please contact rail.stats@orr.gov.uk
P*-coded cancellations
ORR started publishing the number of resource availability shortage "P*-coded" pre-cancellation statistics from railway period 11. The factsheet and data table were previously published on this page but these statistics are now available on our dedicated P-coded cancellations page.
Latest statistical release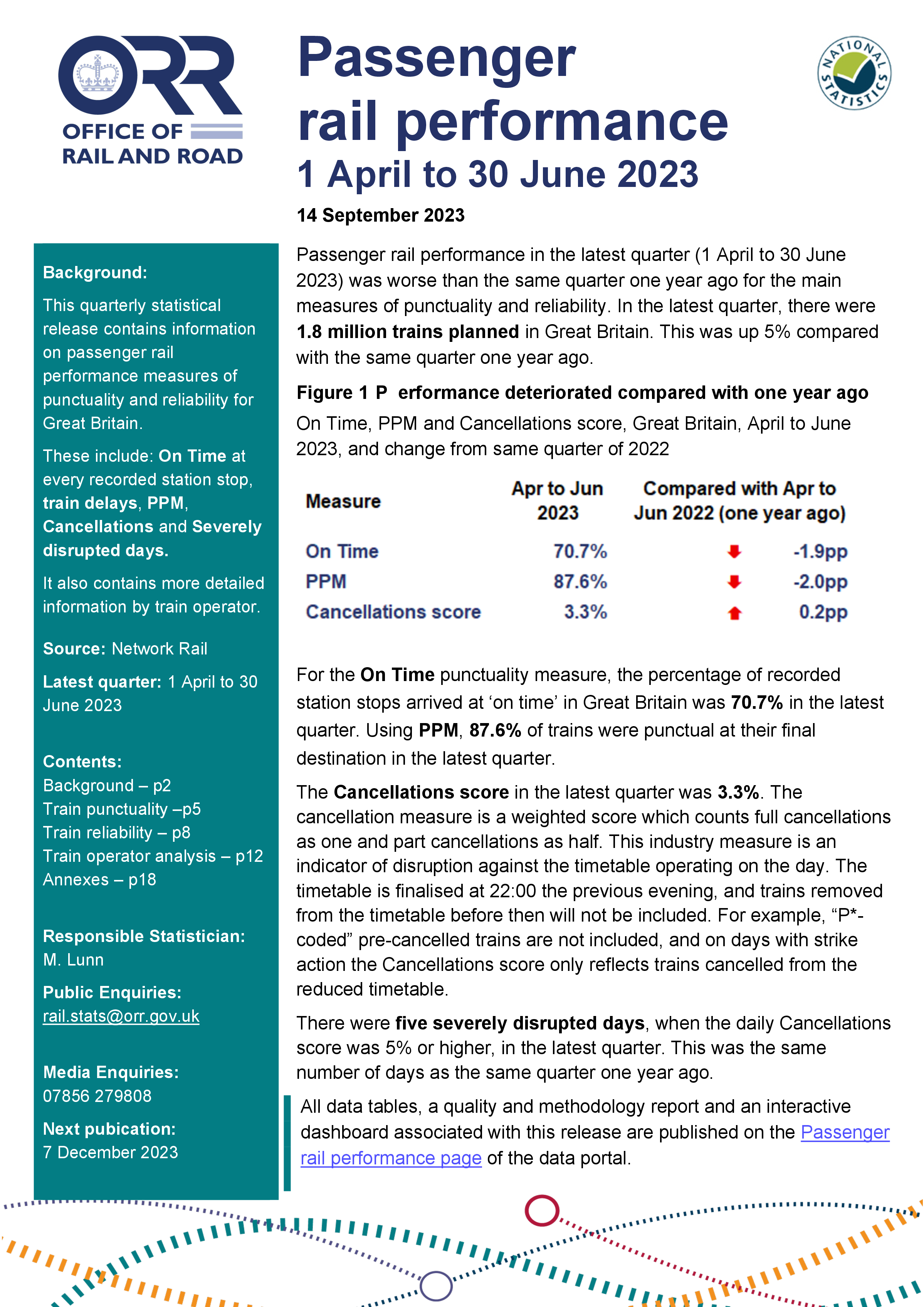 Date published: 14 Sept 2023
Date next published: 07 Dec 2023
Key results
For the On Time punctuality measure, the percentage of recorded station stops arrived at 'on time' (early or less than one minute after the scheduled time) in Great Britain was 70.7% in the latest quarter (1 April to 30 June 2023).
Using the Public Performance Measure (PPM), 87.6% of trains were punctual (early or less than 5/10 minutes after the scheduled arrival time) at their final destination in the latest quarter.
The proportion of trains classified as Cancellations in the latest quarter was 3.3%. This measure is a weighted score which counts full cancellations as one and part cancellations as half.