Passenger rail usage

Quarterly statistics reporting the volume of passenger journeys, kilometres and revenue on the mainline network in Great Britain. Long-running time series on passenger journeys (Table 1220) and passenger kilometres (Table 1230) are updated annually.
Data is shown by financial year quarter: Q1 is April to June; Q2 is July to September; Q3 is October to December; and Q4 is January to March.
For details on how these statistics are compiled, please see our Passenger rail usage quality and methodology report and for information on any revisions, please see our Revisions log.
Data and reports that include previous statistical releases on Passenger rail usage can be found on the National Archives.
Our statistical practice is regulated by the Office for Statistics Regulation (OSR).
If you have any questions or feedback on these statistics, please contact rail.stats@orr.gov.uk
Latest statistical release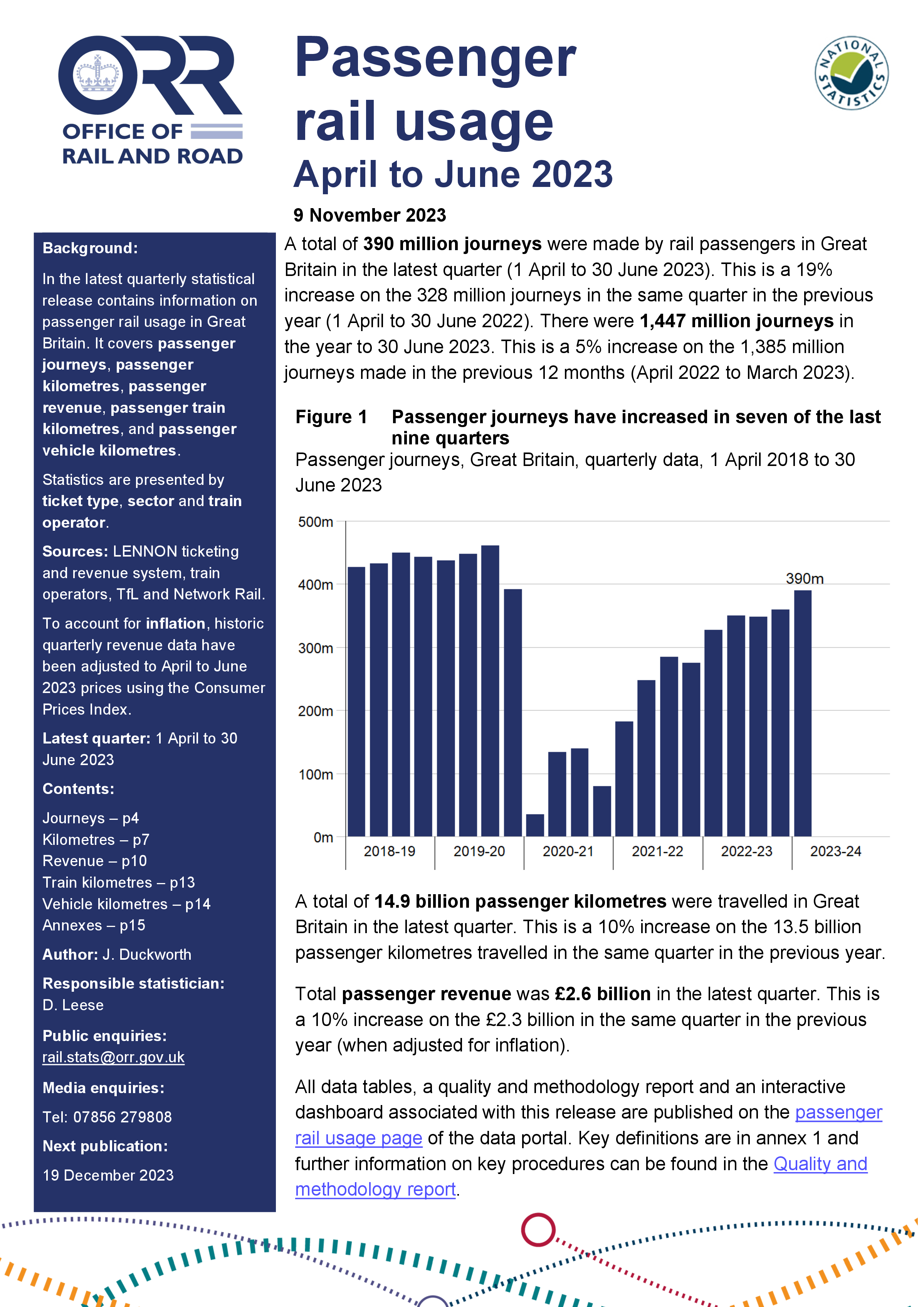 Date published: 09 Nov 2023
Date next published: 19 Dec 2023
Key results
390 million rail passenger journeys were recorded in Great Britain (GB) in the latest quarter (1 April to 30 June 2023). This is a 19% increase on the 328 million journeys in the same quarter in the previous year. There were 1,447 million journeys in the year to 30 June 2023. This is a 5% increase on the 1,385 million journeys made in the previous 12 months (April 2022 to March 2023).
A total of 14.9 billion passenger kilometres were recorded in GB in the latest quarter. This equates to a 10% increase on the 13.5 billion kilometres in the previous year.
Total passenger revenue in GB in the latest quarter was £2.6 billion. This is 10% more than the £2.3 billion in the previous year (adjusted for inflation).