Regional rail usage

Annual statistics providing passenger journeys data for each Region of Great Britain, including journeys between Regions, within Regions and between England, Scotland and Wales. These estimates are collated by Steer on behalf of ORR.
For details on how these statistics are compiled, please see our Regional rail usage quality and methodology report and for information on any revisions, please see our Revisions log.
Data and reports that include previous statistical releases on Regional rail usage can be found on the National Archives.
Our statistical practice is regulated by the Office for Statistics Regulation (OSR).
If you have any questions or feedback on these statistics, please contact rail.stats@orr.gov.uk   
The origin destination matrix (ODM) that underpins our Regional rail usage data is now freely available on the Rail Data Marketplace.        
Latest statistical release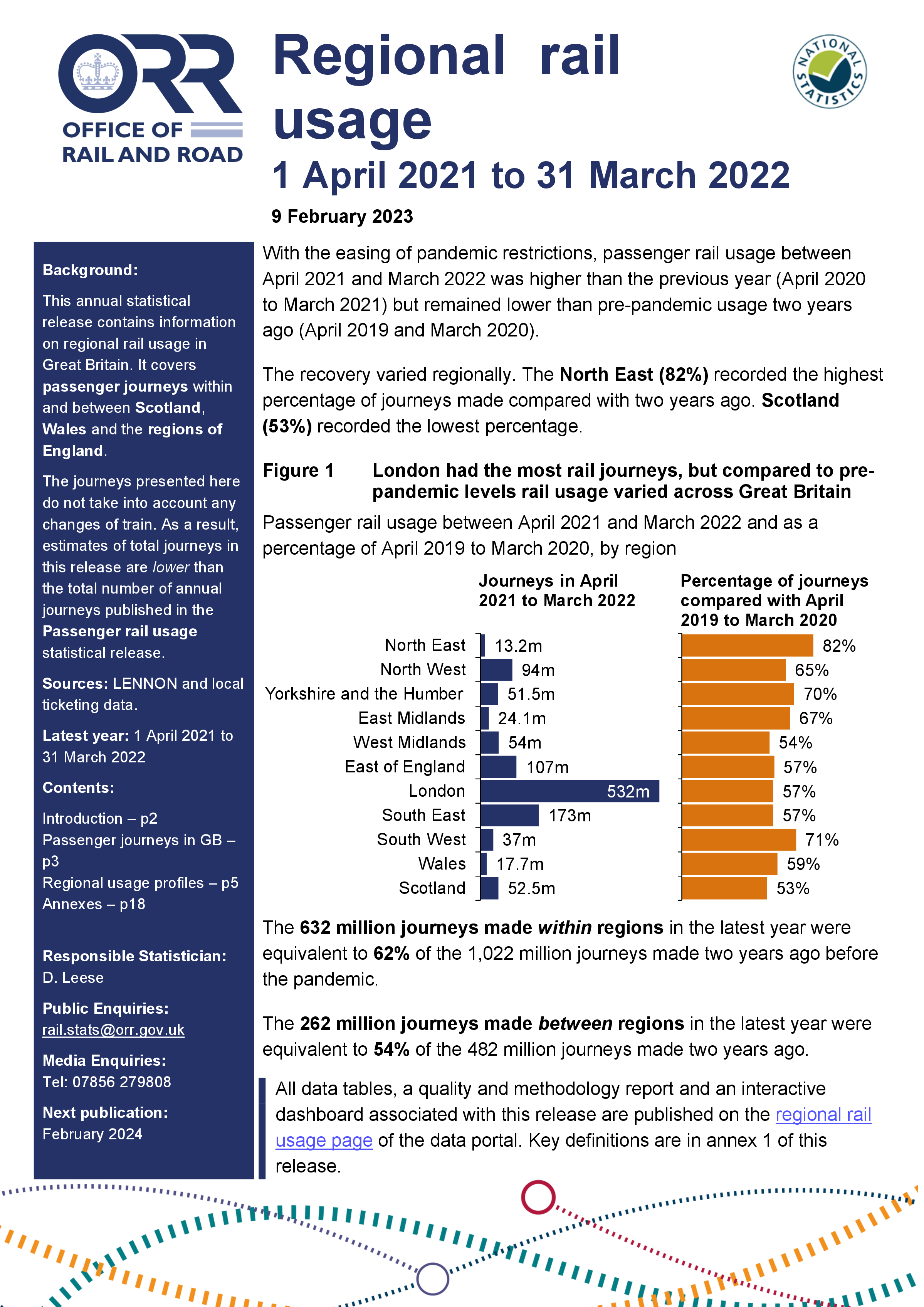 Date published: 09 Feb 2023
Date next published: TBC
Key results
With the easing of pandemic restrictions, passenger rail usage between April 2021 and March 2022 was higher than the previous year (April 2020 to March 2021) but remained lower than pre-pandemic usage two years ago (April 2019 and March 2020). The recovery varied regionally. The North East (82%) recorded the highest percentage of journeys made compared with two years ago. Scotland (53%) recorded the lowest percentage.
632 million journeys were made within regions in the latest year were equivalent to 62% of the 1,022 million journeys made two years ago before the pandemic. 262 million journeys made between regions in the latest year were equivalent to 54% of the 482 million journeys made two years ago.